ANNOUNCEMENTS
DAILY & SHABBAT MINYANIM

We appeal to all men to assist with the Daily and Shabbat Minyanim please.

CHANUKAH
Please note Chanukah begins on Sunday night, 28th of November. The last night is Sunday 5th of December 2021.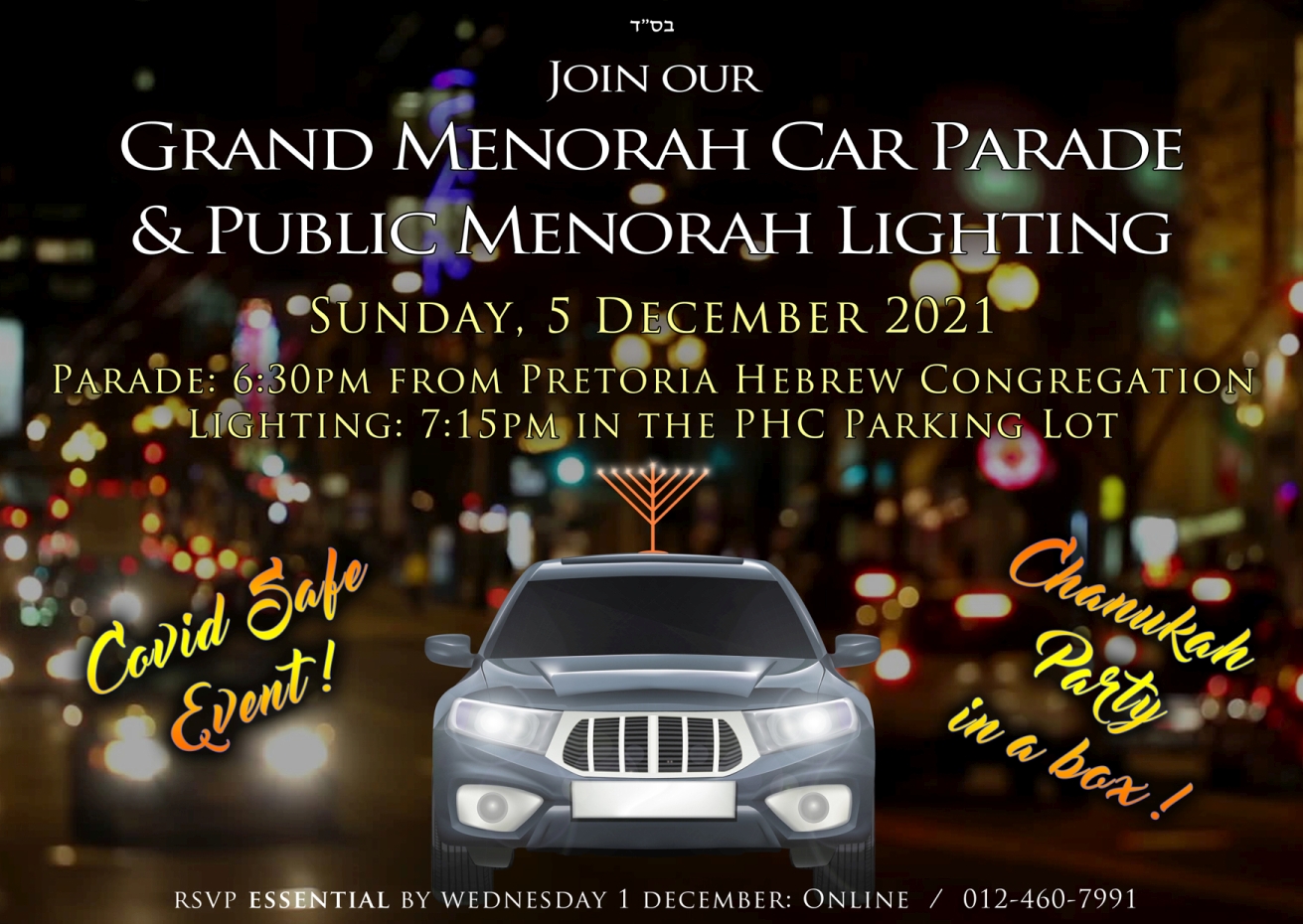 We will be having our Annual Chanukah Car Parade and Public Menorah Lighting on Sunday night, 5 December. It will be a Covid Safe event and you may participate in the entire event without leaving your car if you wish. The Parade will leave from the Shul at 6:30pm and the Menorah Lighting will take place in the PHC parking lot at 7:15pm, after which Chanukah Party Boxes will be distributed. Enjoy doughnuts, latkes, drinks and more and make your own Chanukah Party and dreidel game at home or at the Shul if you choose to stay.

Booking is ESSENTIAL by end of day, Wednesday 1 December, for catering purposes - Chanukah-Party Boxes will only be prepared for those that have booked. Use this link to book or contact the PHC office.
SHABBAT 27 NOVEMBER
This week's Parshah is Vayeshev. Please click here to download the Shabbat Shalom Pretoria for this week.

It is also Shabbat Mevarchim with Rosh Chodesh Tevet falling on Shabbat, 4th and Sunday, 5th December.
YOUTH ANNOUNCEMENTS
CHILDREN SERVICES

Children's Service on Shabbat mornings are from 10:30 - 11:30 am.

PRE-SHABBAT ZOOM CHILDREN'S SERVICE

Join us for an exciting Pre-Shabbat Children's Service every Thursday afternoon at 4:15pm. This service will be in addition and complementary to the Shabbat Children's Services as above.

Join us on Zoom by clicking here. Learn about the Parsha in a fun and exciting way and stand a chance to win a Brooklyn Mall voucher just for participating! Don't miss out! See you on Zoom! For more info contact Rabbi Medalie on 072-490-6329.
SHIURIM
SHIURIM WILL RESUME AFTER CHANUKAH.
HEBREW BIRTHDAYS
ANNIVERSARIES
YAHRTZEITS

SHABBAT
Lou Michal

SUNDAY
Menucha Fox
Brian Lewkowicz
Maureen Shankman

MONDAY
Kyle Brenner
David Eichhorn

TUESDAY
Tali Mullin
Monty Sassen

WEDNESDAY
Gary Nowosenetz

THURSDAY
Nicole Sher

FRIDAY
Avigail Goldberg
Lance Terner

MONDAY
Gary & Ingrid Nowosenetz

WEDNESDAY
Stan & Shirley Brenner
Derek & Elayne Ossip

SHABBAT
Karen Kopelowitz - Mother
Larry Shulman - Grandfather
Vivienne Gottlieb - Father
Ian Woolf Smith - Father
Zynette Katz - Father
Keith Smith - Father

SUNDAY
Rabbi Shaun Wingrin - Grandmother
Gabriel Falkson - Grandmother
Nathan Noche - Grandmother

MONDAY
Zelda Bernstein - Mother
Gabriel Falkson - Grand Father
Jennifer Saunders - Father
Gabrielle Saunders - Father
Marie Klagsbrun - Father

WEDNESDAY
Roland Bregman - Mother

THURSDAY
Sonia Gordon - Mother - In -Law
Derek Ossip - Grand Mother

FRIDAY
Gabriel Falkson - Uncle
Ian Hertz - Grandfather
Jillian Ribeiro - Grandfather
Sharon Paiker - Father In Law
SHABBAT TIMES
This
Week
Next
Week
Candle Lighting:
18:23
18:26
Shema (latest):
08:31
08:32
Shkia:
18:42
18:47
Motzei Shabbat:
19:20
19:26
TIMES OF SERVICES
FRIDAY EVENING
Mincha:
18:00
Kabbalat Shabbat:
After
Mincha
Childrens' Service:
N/A
SHABBAT DAY
Shacharit:
09:00
Childrens' Service:
10:30
Mincha:
18:00
WEEKDAYS
Shacharit

Sunday &
Public Holidays:

08:00
Mon - Fri:
06:30
Mincha
Sun - Thur:
18:00
MAZAL TOVS

We wish Mazal Tov to:

Menucha Fox on her engagement to Mendel Marrus in New York this week.

Rabbi & Rebbetzin Fox and family on Menucha's engagement.

Rilla & Philip Jacobson and Dr. Colin Nates on Menucha's engagement.

CONDOLENCES

We extend condolences to:

Ethne Herson & family on the passing of her niece, Desiree Joy Katz, in Cape Town.

Avi & Devorah Kay and their children, Kasriel (who studied Semicha in Pretoria), Chanan and Na'amah on the tragic passing of their son and brother, Eli, who was murdered by a Hamas terrorist in Jerusalem this week.

UNVEILINGS

The consecration of the tombstone in memory of the late Maureen Murinik. will take place on Sunday, 28th November, Rebecca Street Cemetery, at 10:00.