Due to school holidays the PHC will only be doing collections in Jhb on Thursday's and Friday's.
TISHREI TIMETABLE OF SERVICES

Please click the link below for our timetable of services.

PHC Timetable Of Services 2018
SUKKOT
On Wednesday 26th September.there will be a combined Businessman's Shiur, Ladies Shiur, & Lunch & Learn Shiur at 12:30 in the Sukkah at the PHC Both men and women are invited.
PHC SUKKAH PARTY WITH KIPPALIVE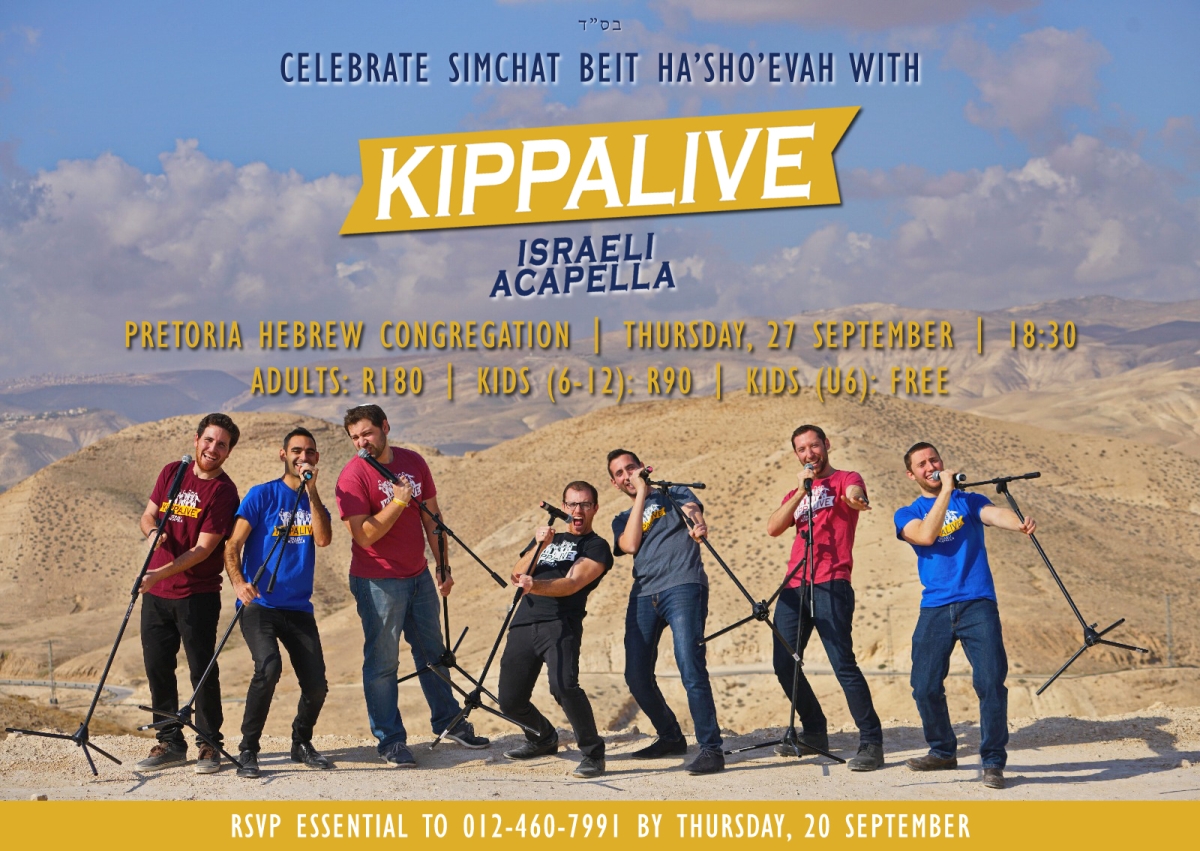 Join us for an unforgettable communal Simchat Beit Ha'shoeva Celebration with Kippalive *. Click here to listen to a sample of Kippalive's fantastic music.
Thursday 27th of September following Mincha / Ma'ariv at 18:30. Cost - Adults: R180, Kids (6-12): R90, Kids (U6): Free. Don't miss this fantastic event.

* Kippalive is Israel's leading A cappella group, famous for its amazing energy, humor, thrilling performances and fresh musical style. Founded in 2011 in Raanana, Kippalive has inspired and entertained audiences across the globe, including performances on the Israeli X factor, at the President's residence, in London, Mexico, and throughout the United States. The group's unique ability to blend its Israeli roots with classical Jewish music and modern pop songs has made it one of the top Jewish A Capella groups on YouTube and Facebook, where its videos have generated over 10 Million views. To date, Kippalive has released numerous singles and a critically-acclaimed album which has gained worldwide recognition.

HOSHANA RABA
Sunday 30th September is Hoshana Raba, the day of Great Redemption.  The traditional service will be held culminating in the Hoshanot ceremony. This takes place during the regular Shacharit Service starting at 08:00.
SIMCHAT TORAH
On Monday evening 1st October, Simchat Torah evening, we will be serving a light dinner, snacks and refreshments at the Shul (No Charge). Vegetarian food will be available. There will also be a program for children. Please see the youth announcements.
Menu for the Dinner: cocktail sausages, biltong, dry wors, chilli bites and prego steak rolls and chicken wings.
There will be a Women's Brunch for all women on Simchat Torah morning, Tuesday 2nd October at +/- 09:45 during Hakafot.
YOUTH ANNOUNCEMENTS
Join us for a fantastic special Simchat Torah program for all children under Bar/ Bat Mitzvah on Monday evening 1st October at 19:00. All children will be given sweets and chocolates. There will be prizes too.
SHABBAT PROJECT
Please diarise Friday 26th and Shabbat 27th of October 2018 for the Shabbat Project. More details to follow.