SHABBAT CANDLE LIGHTING
Please note that although we daven Mincha on Friday at 17:30 and Kabbalat Shabbat at 18:00, Shabbat formally comes in by no later than 17:28 at which point all the laws of Shabbat come into effect for everyone. For women, this occurs immediately with the lighting of Shabbat candles, which this week is 17:10.
UPCOMING EVENTS
LAG BA'OMER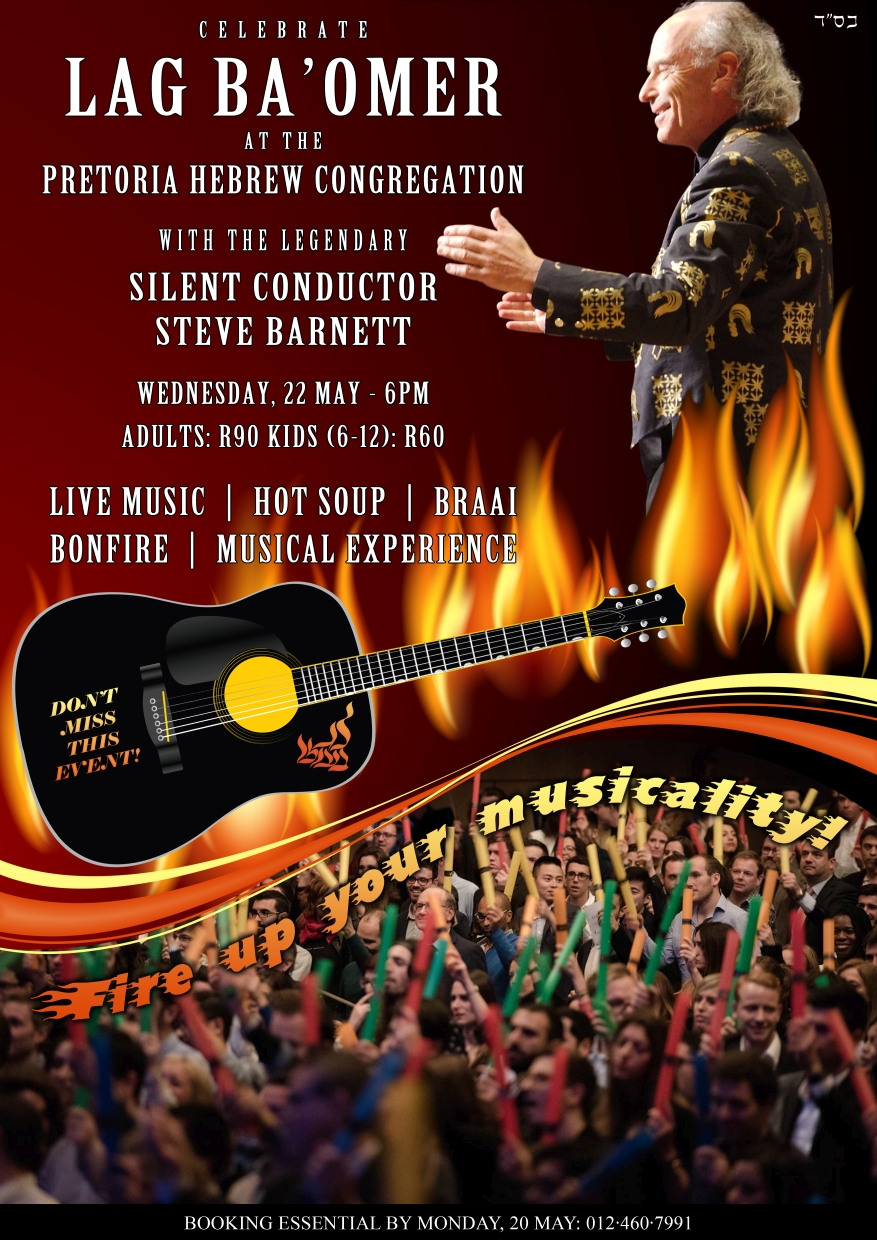 Celebrate Lag Ba'Omer on Wednesday evening the 22nd of May at 18:00 at the PHC. Come and enjoy an incredible musical experience with the legendary "Silent Conductor" - Steve Barnett. Live music with Yochi Ress, hot soup, delicious braai, bonfire, kumzitz. Fun for the whole family! Cost: Adults R90, Kids 6-12, R 60, Kids U6, Free. Please RSVP by Monday, 20th May at the PHC office. Don't miss out on this awesome event!

PHC AGM
The PHC AGM will be held on Thursday evening the 30th of May at 19:30 in the Brocha Room.

Please click here for the Notice of the AGM.

Please click here for the PHC President's Report 2019.

SHAVUOT DINNER
Our annual Shavuot dinner will take place on Motzei Shabbat, the 8th of June. We will be hosting Rosh Yeshiva guest speaker, Rabbi Finkelstein and his Family.  Details of program to follow.  Cost: Adults R180, Kids 6-12, R 80, Kids U6, Free.  RSVP at the PHC office.
SHAVUOT CHILDREN'S PROGRAM
On the first day of Shavuot, Sunday morning the 9th of June, all children are encouraged to come and hear the 10 commandments in Shul at approx. 10:00, followed by an ice-cream party.