In honour of the birth of Yossi & Justine Montrose's son, there will be a Shalom Zachar at Rabbi Fox's house, Friday night the 20th of July, starting at 21:00.

The Brocha this Shabbat is sponsored by Nicholas & Amira Friedman in gratitude and appreciation to the Pretoria Community for their support and care on the birth of their precious daughter Chana.

With Motzei Shabbat being the fast of the 9th of Av which will commence at 17:33, a full meal should be had in the late afternoon concluding prior to this time. This meal, which will also serve as the third Shabbat meal, should include Challah, meat etc. In true PHC style, we will be providing the opportunity to make the Brocha at shul the second of the three Shabbat meals. Consequently, there will be Challah, dips, fried fish and salads at the Brocha, allowing for a single meal at home later on.

TZADDIK BA L'IR

It gives us great pleasure to announce that this Shabbat we will once again be hosting the Stropkover Rebbe, Rabbi Halberstam, who is visiting South Africa from Israel.

Please note that Rabbi Fox's Thursday morning ladies shiur will be moved to Wednesday mornings at his house, 9:30am, starting from next week Wednesday 25th of July.

YOM TOV SEATING

Few things are as inspiring as a packed Shul on Rosh Hashana and Yom Kippur. This year, to take our inspiring services to even greater heights, we are considering keeping the Shul in the same configuration as the entire year. With seating available for all, we are considering stopping the seat allocation done in the past.

Should you have concerns about this proposal and wish to be contacted to discuss this matter, please email Rabbi Medalie (phcyouth@gmail.com) or phone the PHC office (012/460-7991) with said request.

Please be aware that this is currently only a proposal and will only be implemented or discarded once we have spoken to each and every member that has a reserved seat in Shul.

Looking forward to a wonderful and uplifting High Holy Day season.

NINE DAYS & TISHA B'AV LAWS

Please click here for the Laws of Tisha B'Av that falls on Shabbat as well as Times of Services over Tisha B'Av.

On Motzei Shabbat 21 July (Tisha B'Av), we will be showing the documentary "Unlikely Heroes" following Eicha at 7:00pm.


Narrated by Academy Award®-winner Sir Ben Kingsley, Unlikely Heroes chronicles the yet untold stories of Jewish resistance and individual heroism throughout the Nazi Holocaust.

The film utilizes rare film and photos discovered in archives across Europe, and enhanced by weeks of newly filmed sequences in the locations where many of these stories actually occurred.

For most people, the idea of Jewish resistance or defiance during the Holocaust is limited to the heroism of the Warsaw Ghetto uprising and a few isolated acts throughout World War II.

Contrary to the view of some that Jews caught in the terror of Hitler's Europe were passive, Moriah Films latest documentary feature presents previously unknown stories of extraordinary men and women who exemplified the highest level of courage and human dignity during the most desperate days of the Holocaust.

FRIDAY NIGHT DINNER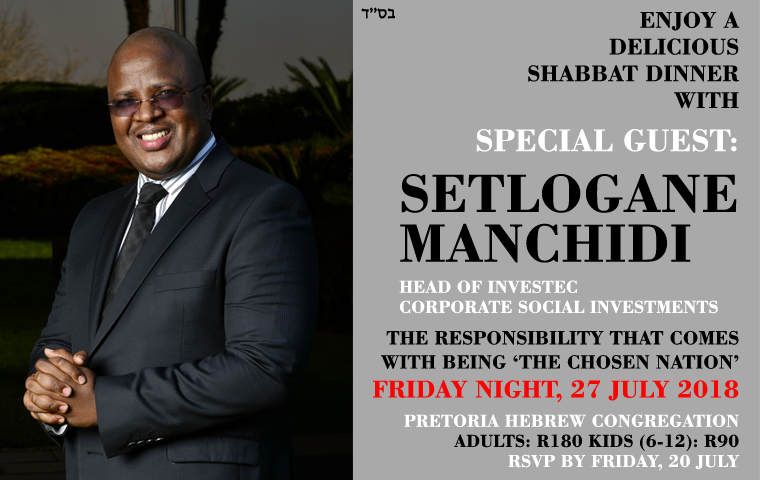 The PHC will be hosting a Friday night dinner with special guest, Setlogane Manchidi, after the Maariv service on Friday Night the 27th July.  Please book at the PHC Office by Friday the 20th of July. Adults: R180, Kids (6-12): R90, Kids (U6): Free.

Delicious Menu: Sushi (So Sushi), Smoked Salmon, Hot-Smoked Salmon, Salads & Dips, Chicken Soup (Moishes), Stcky Ribs &

Sweet Chilly Barbeque Chicken (Nussbaums), Pilaf Rice & Roasted Vegetables, Sorbet (Gelatissimo) and Chocolate Brownies. Don't miss out - book now!